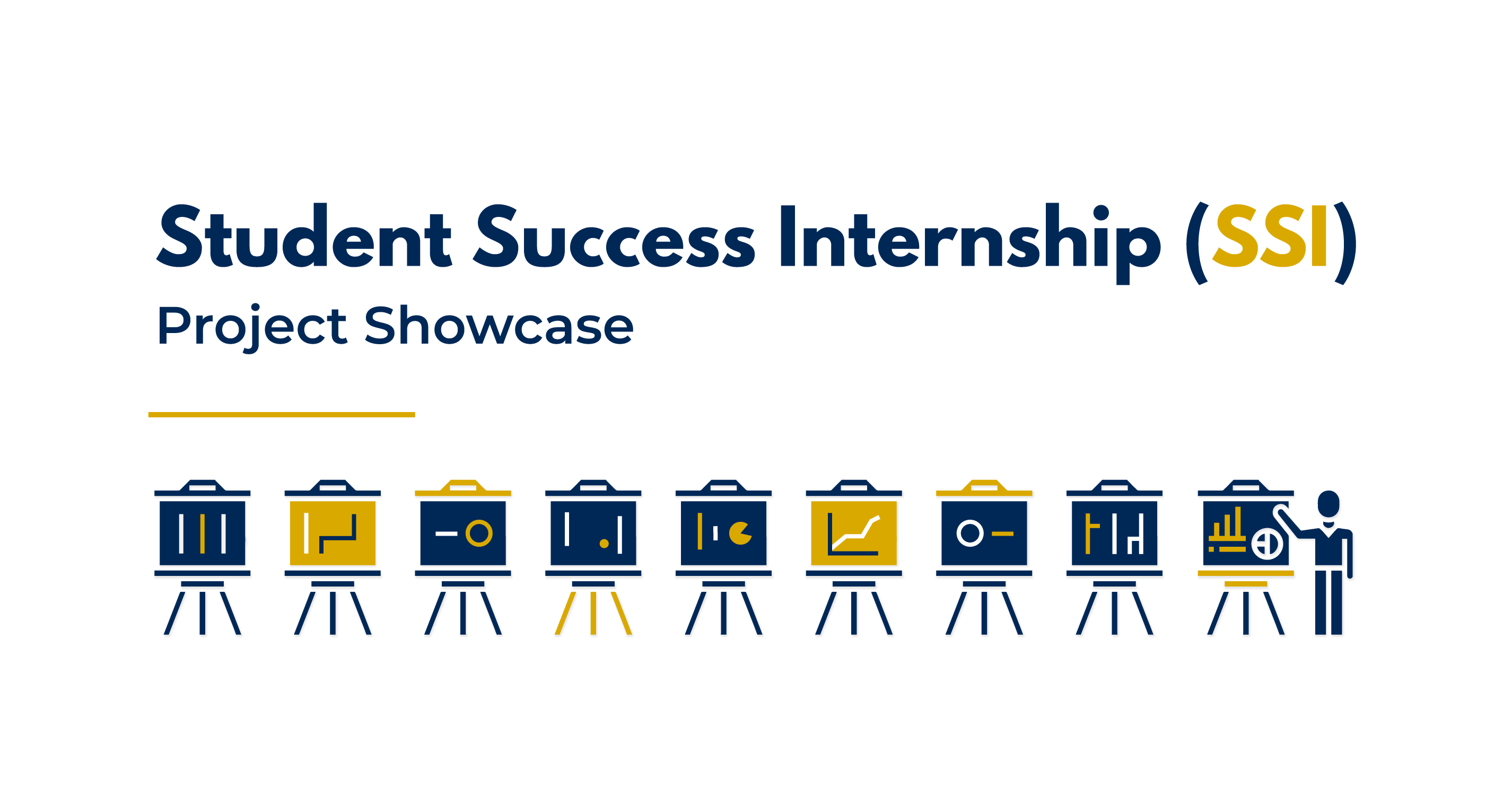 Welcome to the Student Success Internship (SSI) Virtual Project Showcase
The SSI program, now in its seventh year, provides departments the opportunity to design internship positions for undergraduate students to complete professional projects. The interns are paired with faculty and staff mentors who provide guidance and advice throughout the projects.
All students, faculty, and staff are invited to view posters and students' presentations and learn about the impact projects SSI interns are leading at UC Merced. Please join us in a celebration of student success and professional development!
Showcase List
Click on a student's name to access their research presentation!
| Student Name | Internship Title | Mentor Name(s) |
| --- | --- | --- |
| Victoria Lennon | Advancing Antiracism and Inclusion - Faculty Grant Program | Fatima Paul and Naoko Kada |
| Danielle Gaspar | Alumni Relations: Philanthropy, Engagement, Partnerships, and Research | Jessica "JaeJae" Julian |
| Jenifer Alvarado | Analyzing the Impact of Undergraduate Research Programs Through Data Visualization | Valerie Anderson and Jorge Arroyo |
| Cesy Ixcoy | Anti-Melt Enrollment Coach Analyst | Lisa Perry |
| Carlos Lopez-Hernandez | Anti-Melt Enrollment Coach Analyst | Lisa Perry |
| Juana Navarro | Assessing Educational Inequality in California's Central Valley and Imperial Valley | Catalina Amuedo-Dorantes |
| Nora Chen | Brain Development in Children from Diverse Socioeconomic Backgrounds | Elif Isbell |
| Rewanshi Kumar | Brown Youth Academy's Middle School Early Outreach Innovation Project | Michael Pierick and Mari Harris |
| Adam Crawford | Capstone Design Team Optimization Automation | Alejandro Gutierrez and Ashlie Martini |
| Jacqueline Penate | The Center for Educational Partnerships Communications Project | Bernardo Reyes |
| Angelo Fatali | Content Management and Scaling | Stefano Foresti |
| Cecilia Martinez-Bello | Creative Content-Making on Instagram: Share the Library's Story | Sara Davidson Squibb |
| Romeo Marroquin | Digital Twin Enabled Fault Diagnosis and Health Monitoring for Process Control Applications | Furkan Guc |
| Ashley Marie Suarez | Educational Opportunity Outreach Project | Edith Ramirez |
| Sivagunalan Thamilarasan | Exfoliation and Characterization of MoS2 2D Materials | Parveen Kumar |
| Jowi Aizpuro | Geospatial Data Management Intern for Merced Vernal Pool and Grassland Reserve | Joy Baccei and Erin Mutch |
| Alberto Medel | Greenhouse and Experimental Garden Intern Project | Emily Moran and Jason Sextonr |
| Laura Cabrera | Human Resources Communications and Marketing | David Ellington, Fabiola Elizalde and Kevin Reyes |
| Lindsey Sanchez | Identifying and Promoting Campus-Led Community Engaged Research | Robin DeLugan and Steve Roussos |
| David Vidauri | Identifying and Promoting Campus-Led Community Engaged Research | Robin DeLugan and Steve Roussos |
| Phoebe Adamyan | Implementing Python Knowledge to Replication Simulation Written in Matlab | Katrina Hoyer and Jon Anzules |
| Ashley Alvarez | Internal Audit and Data Analytics Project | Shelton Autry |
| Henry Rojas de Leon | Isotopic Analysis of Human Diets in the Ancient Andes | Beth Scaffidi |
| Zachary Silva | Mapping Utilization at Merced Vernal Pools and Grassland Reserve | Brandon Stark and Joy Baccei |
| Ukamaka Ezimora | Materials for Sustainable Plastics and the Environment | Lilian Davila |
| Michae Difrieri | Microwave-based Methane Sensing | YangQuan Chen |
| Liliana Silva-Vazquez | Multilingual Writers Research Project | Paul Gibbons, Catherine Koehler, and Amy Fenstermaker |
| Avi Rae Quiogue | Research Compliance Process Review Project | Leslie Teixeira-Porto, Chou Xiong and Danielle Dai'Re |
| Nancy Ooi | Social Media and Digital Communications | Hrant Hratchian, Mariah Gonsalez, Shahar Sukenik, Tom Martinez and Christine Isborn |
| Alexander Ochoa | Student Scholarship Recipient Database | Carla Spain |
| Jennifer Cruz | UC Learning Center | David Ellington, Fabiola Elizalde and Kevin Reyes |
| Adrianna Alpern | Valley Fever Data Project | David Gravano |
| Xitlaly Gomez-Vega | Yosemite Big Wall Plant Adaptation Project | Jason Sexton |